About Legends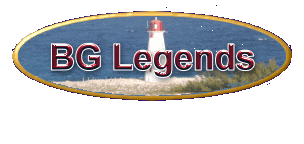 The management at SafeHarborGames would like to acknowledge the presence of a few nationally ranked Backgammon Players - not only for their achievements, but as a way letting SHG players know a little bit about their accomplishments. These players can be recognized by the special icon (

) preceding their name. We have asked them if they would like to share a few things with the SHG membership.
Learned to play backgammon at the the renowned Los Angeles clubs Cavendish West and Pips in the late 70's. Has won numerous national, international, and regional tournaments, most notably the World Championship in 1989. In the mid 90's won 5 out of 6 masters events during one stretch. Finished first in the 1995 ABT tour. Won the 1999 Pro-Am in Las Vegas. Was a regular on the Giants list until retiring from tournament play for a decade. Most recently was a finalist in the 2008 Las Vegas Open and the 2009 U.S. Open. Plays on gridgammon as ez2bcubed.
Recently awarded grandmaster status with many European titles. Frank Simon's recent excellent performances at Mannheim and North Cyprus have earned him the grading of G3 after 550 experience points.

Congratulations to Frank for his persistent no-nonsense approach which has rewarded him with the Grandmaster title he fully deservers.
Mary Hickey learned backgammon at the very end of the 1970s craze, then dropped out of the scene to pursue other interests and raise a family. She returned to playing at the end of 1995, and has been playing, teaching, and writing about backgammon ever since.

Mary's tournament wins include the US Open in 2010 and 2011; the Mid-Atlantic Championships in 2010; the Ohio State Championship in 2009; the Ohio Masters event in 2002, 2003, and 2006; and the "Indianapolis 300" masters event in 2006, plus various blitzes and other side events. She also teaches the game live and on-line.

Mary is the author of a backgammon book on CD, Chouette and More, published in co-operation with GammonVillage.com in 2010. She is a co-author with Marty Storer of What's Your Game Plan? Backgammon Strategy in the Middle Game, published in 2011 (GammonGo Publishing). Her next backgammon book will be about strategies and techniques to avoid making what we call "careless" or "visual" errors in backgammon and life in general. A condensed excerpt from it was published in the Flint Area Backgammon News in spring of 2013. She also has a series of articles available for free reading at the GammonLife.com website. Outside of the game, she is currently working on a book about the experience of moving from city to country, experimental fiction, and some other shorter projects.

You can find her online at Safe Harbor Games, and also FIBS and Gridgammon, as "mamabear".
Started playing backgammon in NYC in the early 70's and then dropped off the BG scene for many years. I currently reside in central NJ (about 1 1/2 hours from NYC). I help run a local chouette once a week and have participated in tournaments in the USA and a few overseas. I had some good results mostly due to luck and perseverance.. Although I don't deserve it, I am honored to be included among these great players who are indeed true legends.
From Phil : I am honored and humbled to be included with the other legends on this site. Though I had one great year on the ABT tour where I finished No. 2, my playing skills are not comparable to the other legends on this site and the top players in the game. I am a level below, but watch out, I am getting better all the time!

I am better known for the hundreds of articles I have published, for my lectures and running calcuttas at live tournament, for my web site which includes a lot of interesting and fun information that is updated daily (www.simborgbackgammonlesson.com), and of course, I am best known as a backgammon teacher.

I have been teaching over 20 years and I have a lesson program that has taken many players all over the world from beginner to strong intermediate, and from intermediate to Open, in a very short period of time. In 4-5 lessons, every one of my students see a huge jump in their skills and ratings. I am ALWAYS looking for new students.

I am most proud of my efforts to help form the USBGF which will do much to grow the game of backgammon in the US and throughout the world, and I am proud to have been appointed chairman of two committees: Rules and Ethics, and Education.

Unfortunately, now that I am chairman of a committee dealing with Ethics, I will have to clean up my own act which includes holding my temper and throttling back on my humor. Oh well, I guess we all have to make some sacrifices!

I live in Chicago with my beautiful doubles partner and wife, Randee, and I am enjoying semi-retirement by teaching backgammon 3-4 hours a day and playing 4-5 hours a day as well. Life is good!
Name - Stick
Location - Ohio (mais je préfère la France)
Website - http://www.bgonline.org/forums
Age - Comparatively Young
Maladies - Peter Pan Syndrome (PPS)
Other Interests - Card Games (Hearts, Poker all forms, Gin, Spades, etc...), Girls (Redheads, Brunettes, Blondes, all forms, etc...), Liquor (Beam, Crown, Captain, all forms really, etc...)
MSN - swayin_to_the_rhythm_of_a_nwo@hotmail.com, AIM - checkmugged
Math professor of Baltimore, Maryland Robert (Bob) Koca rise to fame began at the 2008 World Series of Backgammon tour, when he outplayed backgammon and poker master Gus Hansen at the Riviera Cup. This win guaranteed him a seat at the 16-players WSOB shootout, where he finished second.
2008 also saw Koca winning several ABT events including the Colorado States Backgammon Championships doubles event (together with backgammon giant #16 and ABT player of the year Ray Fogerlund), the satellite doubles at the Michigan Summer Championships (with Stick Rice), the 8th Carolina Invitational, and the second place at the California State Championships and the last chance of the Midwest Backgammon Championships. Koca continued to grab victories in 2009, when he won both the Memorial Day Masters and the Perry Gartner's Quiz at the ABT Chicago Open. He also joined forces with the same Perry Gartner to win the Doubles events.
Rich lives in New York and has played competitive backgammon since the late 90's and online since 2007. After several years away from live tournament play, Rich returned in 2006 in what proved to be a break-out year, winning the Michigan Summer Championships and continuing on to win three ABT events that year. He finished 2006 in first place overall on the American Backgammon Tour. Success continued in 2007 with a second place overall finish on the American Backgammon Tour and a semi-finalist finish in the Monte Carlo World Championships. At the end of 2007, Rich was voted as the #30 Giant of Backgammon.
ZurichMint is also a regular player on GridGammon (formerly GamesGrid) where he has consistently maintained a 1900+ rating for over two years. For the curious, ZurichMint is an anagram of richMunitZ.